If you're wondering why Weber grills are so expensive, take a moment to consider the quality and durability they provide. Their innovative design and high-quality materials contribute to the high price tag of their products. Weber grills have a strong reputation and top performance, so you won't have to worry about them breaking or becoming too old before you can use them again. Listed below are some of the benefits of a Weber grill and how to choose one for your needs.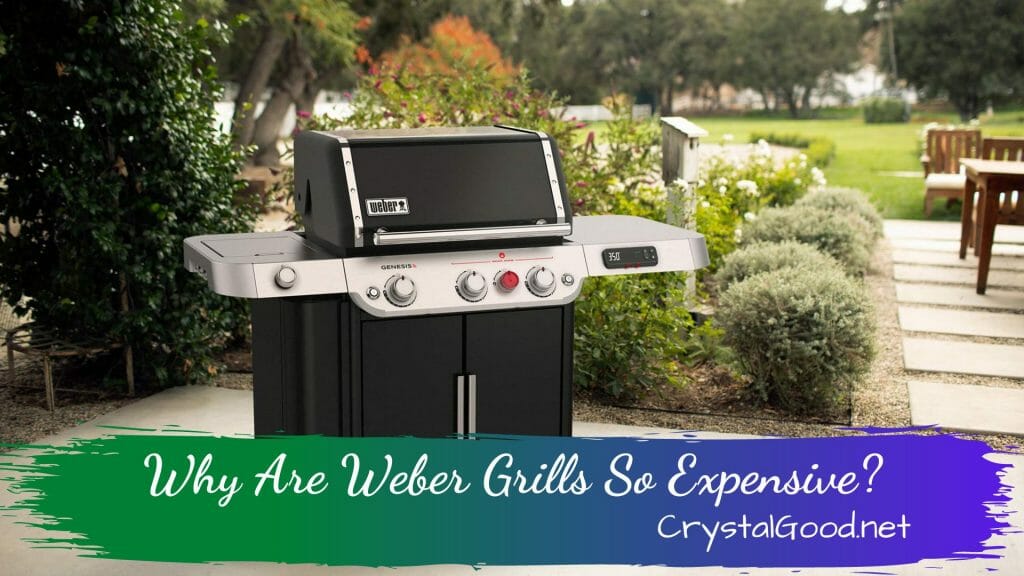 Designed and built to last for a long time
The Genesis E-435 grill is a freestanding model that features four high-heat burners. The grill is equipped with 9-mm-thick stainless steel grates that improve heat retention. It has enough room for a large family cookout. The PureBlu high-heat burners provide a pure flame across the grilling area. Weber grills are known for their durability, so you can be sure to get your money's worth with this model.
The grill's lifespan is determined by the amount of use you give it. More frequent use will shorten its lifespan. However, if you maintain the grill properly, it will last for a long time. The best way to extend the life of your grill is to clean it regularly. Keep it out of the rain to ensure that it remains in good condition. If possible, store it in a dry place.
In addition to their durability, Weber grills have a generous warranty program. Their parts and materials are covered under a two-year warranty. The grills' porcelain enameled cast iron cooking grates and flavorizer bars come with a five-year warranty. Besides warranties, Weber grills have an excellent customer service team. The company even offers service for grilling problems.
Long-lasting materials for amazing outcomes
One of the best things about a Weber grill is the material used to create it. The company's grills are made from porcelain enamel, the same material used in most household ovens. These durable materials resist scratching, chipping, and cracking. This means that your barbecue will look great for years to come. Here are some benefits of Weber grills. Their porcelain enamel finish will stand up to the rigors of your daily life and help you create amazing meals.
The Weber Genesis series offers an attractive look with various color choices and sizes. This series is larger than the Spirit line and provides more versatility and upgraded materials. It is designed for avid grillers. It is available in all sizes and is available in a wide range of colors. It features a large cooking area and a high capacity. Hence, the Genesis line is a great choice for serious cooks.
Unlike consumer grills, commercial models use more durable burners and materials. The stainless steel exteriors last for ten years or more. The enamel surfaces are also durable, while powder-coated surfaces chip and peel after just a few years. Companies that offer extensive warranties have confidence in their products and the quality of their work. The grills that are covered by warranties are often the best ones for outdoor cooking, as they can last for years.
Innovative products
While Weber grills are not cheap, the company has an impressive reputation for quality and innovation. The company continually releases new models with improved heat distribution and air circulation. Some models even have porcelain-coated steel or stainless-steel exteriors. These upgrades all add to the practicality of a Weber grill. The company also uses high-quality materials in its products, so you can expect a good build and durability.
For example, the Genesis E-325 grill has a 20% bigger high-heat sear zone than any other Weber model. It is also 20% larger than previous models, with plenty of room to cook large amounts of food. Weber's PureBlu high-heat burners deliver pure flame to a large grilling area. In addition, Weber has included an expandable upper warming rack that has bars running from front to back and side to side.
If you're looking for a grill that is durable and innovative, consider a Weber. While Weber grills are more expensive than other brands, they are worth every penny. Unlike many mass-produced models, Weber grills are built to last. You can count on a long-lasting grill, thanks to Weber's focus on customer satisfaction and quality. And because they are so well-built, they're not easily knocked out.
Warranties and repair
If you purchase a new Weber grill, you can get a five-year warranty. This warranty covers all parts and electrical components and it applies for the entire time you own it. However, you must note that it does not cover wear and tear or cosmetic cracks. Cosmetic changes are not considered damage and will not affect your grill's performance. Moreover, warranty repair does not extend beyond the five-year period.
If you purchase a vintage grill, your warranty will apply only for the year that you purchased it. You cannot transfer the warranty. Furthermore, the warranty does not cover damage caused by improper use, misuse, or flare-up fires. If your Vintage grill breaks down, you will need to contact the company's customer support service immediately. The company is only responsible for replacing the parts if they are defective.
The warranty on Weber grills is a valuable benefit for customers. In case of defects, you can expect to receive a free repair within a year of purchase. This warranty applies only to the original purchaser who has proof of purchase. The coverage period starts on the day the product was purchased, and the warranty registration card needs to be submitted to activate it. You must be the original owner of the product, and it may not be passed on to anyone else.
Energy efficiency
If you're looking for an electric grill that is both efficient and beautiful, you may want to look at the energy efficiency of Weber grills. These grills use just 1560 Watts of power and can operate with a standard 120-volt outlet. The grill comes with a 6-foot grounded electrical cord that makes it easy to place the grill safely. The grill comes with a two-year warranty from the manufacturer, and is made in Illinois.
Weber is known for its high-quality grills, and their wide range of models ranges from inexpensive charcoal grills to high-end gas units. These grills are known for their quality and efficient operation, and their advanced engineering features are ideal for anyone who enjoys a good meal without using too much fuel. As a result, they're more expensive than some of their competitors, but you can enjoy the quality and performance of Weber grills without having to worry about the cost of fuel.
Another great feature of Weber grills is their versatility. They can be customized to suit your cooking needs and preferences. If you're a serious barbecue enthusiast, you can buy Weber grills with built-in thermometers and a removable rack. They can be purchased separately or as a set, but you'll need to choose your model carefully. Most Weber grills can be paired with other Weber appliances for even more versatility and customization.
Customer support
Although Weber grills may be expensive, the brand offers exceptional customer support. The company's team is available around the clock, and can assist with questions about assembling or fixing your grill. In addition, Weber offers a generous warranty that covers individual parts and covers the cost of return shipping, as well. This makes it a good choice for those who are looking for a high-quality grill that is sure to last a long time.
If you are still on the fence about purchasing a new Weber, consider buying a used model. You can find a used model on Facebook Marketplace or Craigslist. These people are usually just looking for a reason to upgrade to the latest version. But keep in mind that you should consider the warranty before making a final decision. Ultimately, the price of a Weber grill is justified by its quality and customer support.
Customer support is another major reason that Weber grills are costly. It is not difficult to find replacement parts, as long as you buy an American-made product. Because Weber is a reputable US company, you can count on a good customer support system. However, the only drawback to purchasing a Weber grill is the cost. The customer support is worth every penny, so you may want to choose a different brand if you're not completely satisfied with your purchase.
Conclusion 
Weber grills are some of the most popular grills on the market. They come at a high price, but many people believe that they are worth the investment. There are many features that set Weber grills apart from other brands. Let's take a look at some of the reasons why these grills cost so much money.