Are you looking to save time in the kitchen by having the power of a meat slicer at your disposal? Investing in the right model for you can be a daunting task – especially since there is such an overwhelming number of products available on the market today. With so many variations and prices, it can seem hard to determine what features are worth considering and how much money to spend when purchasing a meat slicer.
In this blog post, we'll take a look at all of these factors – from basic models to advanced versions with more bells and whistles – so that you can decide which kind is best for your needs and budget. Read on as we dive into everything you need to know about buying a great meat slicer!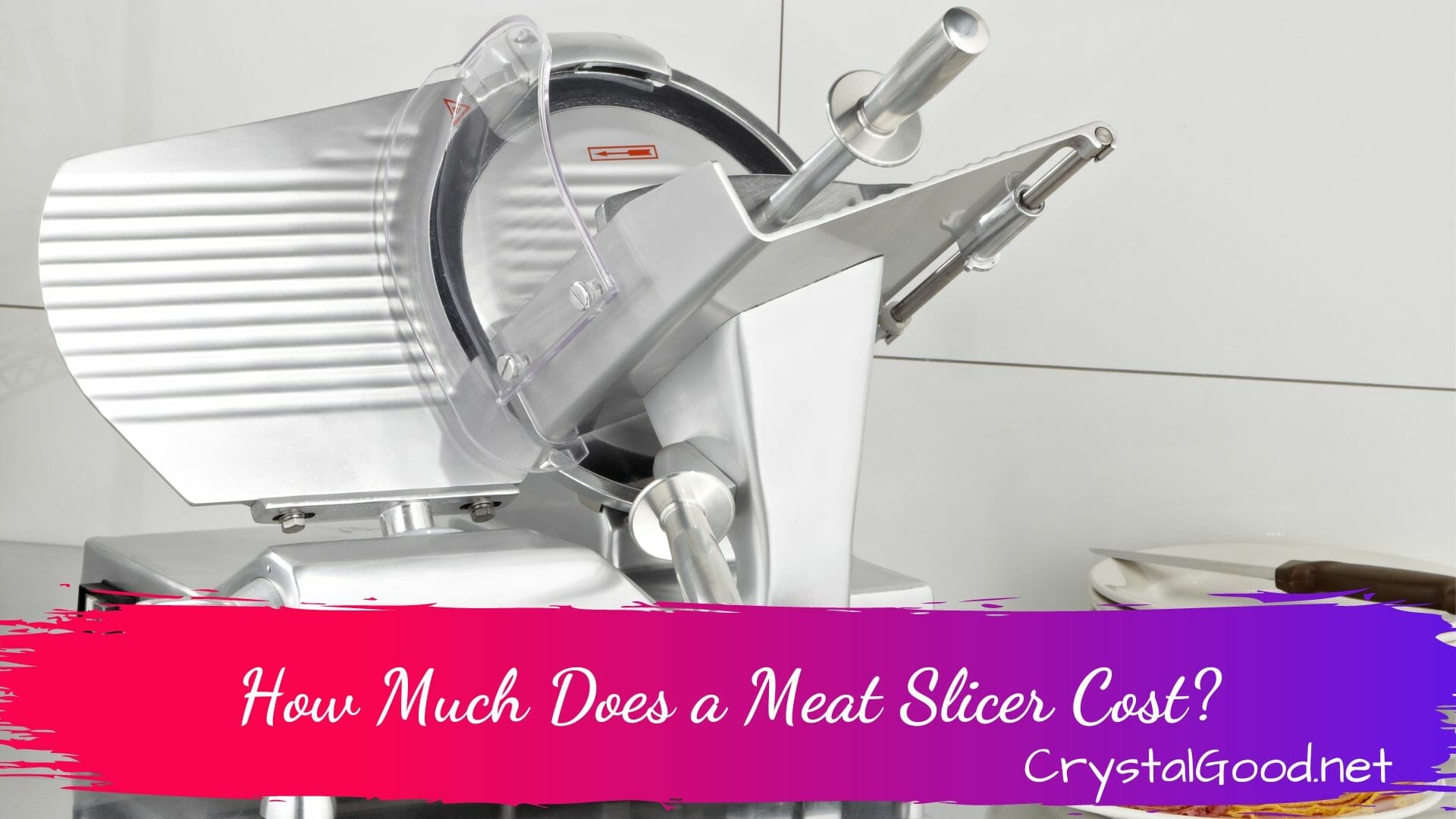 What is a Meat Slicers?
A meat slicer is a machine that can be used to cut foods such as meat, vegetables, and cheese. It is a popular item for butcher shops and delicatessens, as well as restaurants and other commercial kitchens.
These machines are designed to cut meats in high volume, while preserving the same texture and size of each slice. They are a great way to improve kitchen efficiency and reduce costs.
They can also help reduce the amount of time it takes to prepare food for large groups. This makes them a perfect tool for businesses that cater to multiple people at one time, such as cafes and hotels.
The best meat slicers have several key features that make them easy to use and clean. For example, they may feature ingredient chutes that allow you to feed ingredients in and out of the slicer. They should also come with cleaning tools and a food-safe lubricant, to ensure they work safely and smoothly.
Another important consideration is the size of the blades on your slicer. You want to buy a meat slicer that can handle the volume of meat your business will need to use on a daily basis. The industry standard is a 12-inch blade for premium and mid-tier models, while 9-10 inches are the recommended size for small restaurants.
Aside from blade size, you should also check whether or not your meat slicer has a sharpener built in. This will prevent you from having to purchase new blades in the future.
Benefits of Meat Slicers:
Whether you're a small food truck or a large chain restaurant, using a meat slicer can improve the quality of your sandwich. It can cut the meat into even slices, which is very important to ensure that your customers are satisfied with their sandwiches.
Unlike hand-slicing, which can be difficult and time-consuming, a meat slicer cuts the meat quickly. This means that you can focus on other tasks while the slicer does its job, which can save you a lot of time.
Another great thing about using a meat slicer is that it's very safe to use. This is especially important if you have young children in your kitchen who may not be comfortable with handling knives.
While the blade is very sharp, it doesn't require a high speed to cut the meat. This allows you to work faster and more efficiently, so your customers will be pleased with the results.
A meat slicer also helps your business save money. It can cut more meat than you can with a carving knife, so you won't have to purchase as much meat.
There are many different types of meat slicers on the market, so it's best to choose one that fits your needs. The motor power and blade size are both important factors to consider. If you plan to use the machine frequently, it's a good idea to invest in a model that has a higher horsepower motor.
The Different Types of Meat Slicers:
There are many different types of meat slicers available on the market. Each type has its own benefits and disadvantages, but they all have one thing in common – they can help you save time and money in your foodservice business.
Most meat slicers are manual, but there are also semi-automatic and automatic options. These models are more durable and are suitable for commercial kitchens that need to cut large quantities of meat.
A meat slicer is an essential piece of equipment in any busy deli, bistro or restaurant. It helps to reduce the amount of prep time and make food presentation much easier.
These machines are available in a range of sizes and shapes, with different blades for different uses. Most domestic-market meat slicers have a 12″ cutting blade, although some specialty models can cut up to 14″.
Meat slicers are designed to create uniform slices of various foods, including cheeses and raw meats. They are also designed to be safe and easy to use.
To start slicing, first put the product on the tray of the slicer. Next, lift up the clamp arm and swing it out from the main body of the machine.
A meat slicer can be used on various types of foods, but it is important to check the manufacturer's instructions before using. They should state what kind of meats they can cut, as well as whether they are capable of slicing bone.
How Much Does a Meat Slicer Cost?
The price of a meat slicer can vary widely depending on what you need it for. A home model can cost as little as $50, while a high-end commercial-grade machine can set you back thousands of dollars.
The cost of a meat slicer depends on several factors, including the blade size, motor power, and overall measurement. It also depends on whether it is manual or automatic, and how much use it will get a day.
Most home-use meat slicers have a small blade, between 7 inches and 9 inches in diameter. These are great for slicing smaller amounts of meat, but they can gum up with prolonged use and require regular cleaning.
A medium-duty machine with a 10-12 inch blade and a 240-320 watt motor is perfect for moderate jobs, such as slicing sandwiches or prepping for a family dinner. These machines can handle a variety of meats and cheeses, and they can slice for more than 30 minutes continuously.
They are also ideal for slicing frozen products. However, they cannot cut bone, which is another reason why they aren't recommended for heavy-duty uses.
They are often used in delis and grocery stores to cut foods into uniform slices. They're also common in restaurants, sandwich shops, and other establishments that need to slice a lot of food in a short period of time. They can be manually operated or automatically controlled, and they can come in a wide range of shapes and sizes to fit different kitchen layouts.
How To Choose a Best Meat Slicers?
If you need a meat slicer for home use, it's important to choose one that's durable and easy to clean. It should also be able to handle all your slicing needs. Luckily, there are several good options available on the market today.
First of all, you'll want to consider the size of the blade. This is a big factor when choosing a slicer, as larger blades can easily handle heavier cuts of meat.
Another important feature to look for is a blade that's coated with Teflon. This coating helps keep food particles from sticking to the blade and making cleanup more difficult.
Finally, you'll need to choose a model that has a powerful motor. This will help you cut through even the toughest cuts of meat with ease.
A good quality meat slicer should be able to work for several hours without getting tired or damaged. It's also recommended to choose one with safety features such as child locks.
For example, the Chef's Choice 609A000 Electric Meat Slicer is a great option because it's built to last and has a tilted food carriage that makes it easy to get fast and precise slicing. It's also fully retractable, so you can easily slice large hams and roasts. It's also affordable, making it a great option for anyone looking to save money while still having the convenience of an electric meat slicer.
Conclusion:
A good quality meat slicer can cost anything from a few hundred dollars to a few thousand for the top of the line models. The most expensive ones can be found in kitchenaid or chef's choice showrooms, while the least expensive ones are a dime a dozen on Amazon. The best models are easy to use and clean, and can slice a wide variety of foods from beef to cheese to ham. The most difficult part is choosing which one to buy, though. The following tips will help you choose the best meat slicer for your needs.
The meat cutting machine is the most important piece of equipment to purchase, as it can save you hours of time and money. It can also increase the overall quality of your meals, and improve your dining experience. This machine will be a recurring fixture in your kitchen, and it is worth the investment. The most important thing to remember is to test it thoroughly before buying.